February's Feline Re-Freshment
Downloads for February's Aqua SZN & the Leo Full Moon
Late January re-calibrated for the arrival of alien princess Aquarius AND ALL PLANETS ORBITING DIRECT.
Aqua's ruler Uranus was the latest to move forward-motion on January 22nd, soon after the Sun sashayed into the Sign of the Water Bearer. Uranus equals Change, the Future, individuality, new tech and imagination and, as an outer planet, spends 7 years in each Sign. Currently in Taurus until 2026, Uranus' revolutionary rotation mirrors the Bull's values of care AND stubbornness. Taurus is, after all, a fixed sign like Aquarius.
In a way, the Uranus Retrograde reverse-reflected Taurean themes of resources, especially during the famine framework of Winter. Issues of inflation, corporations prioritizing profits over the people, the push back of the Bull has been emphasized explicitly in the last months of the North Node in Taurus. Aqua Air seemingly invited more electric ideas and communal conversation, illuminating present movements, especially where freedom and nature are concerned. 
Barbarella Psychedela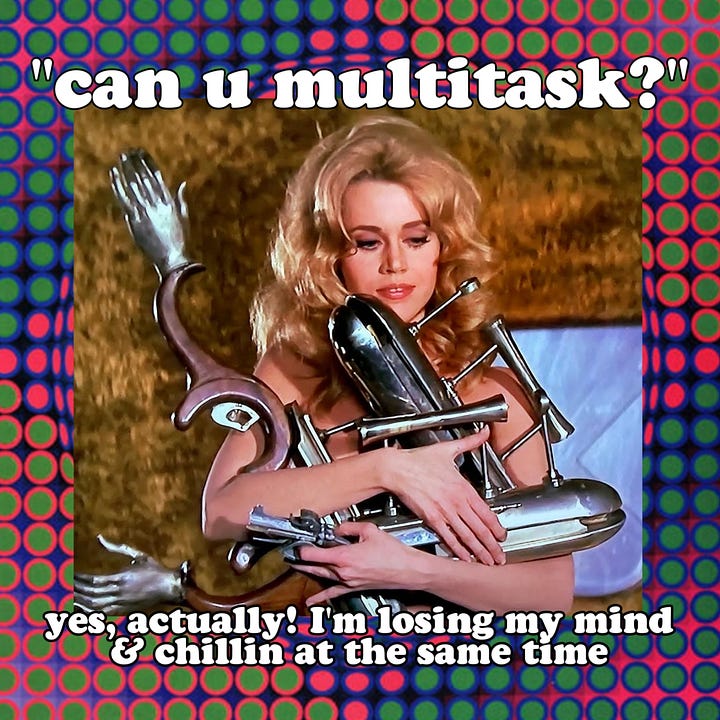 Aquarius is seen as the Humanitarian of the Zodiac. We're always happy for Aqua SZN not just for its futuristic fresh air, but also because our main team and most of our contributors are mostly Aqua Suns, myself included, along with Lead Designer Liz Yo (birthday yesterday) and Co-Editor Murda Hill (birthday today - yay!). For 2023, Murda and I chose to feature the cult film Barbarella (1968) as the Aqua Femme Film Astro Archetype. Despite its goofy plot and Swingin' 60's silliness, the Sexual Revolution in a Space Age B-movie felt like an appropriate aesthetic for Aquarius.
In Vadim's sci-fi film, Jane Fonda played an intergalactic heroine navigating varying spacescapes and otherworldly situations with an open mind, able to remain detached yet open to new experience. Admirers of Fonda's activist no-nonsense spirit, rising beyond the hippie-dippie cliches of her generation and refusing to be a mock of it during that time frame, reminds us of Aqua's similar portrayal. Aquarius is not that of the foggy, free-floater but more so a mind-expansive navigator. Though we DO spawn off Astro*Lite cliches to provide digestible yet slightly elevated, above all fun, Archetypicals, it's worth noting where the stereotypes are a bit stale.
2023 Re-Do
Despite our love of retro-sexual kitsch, we are not always fans of a Retrograde. January has by all means felt stagnant as Winter drags on in the Northern Hemisphere, bogged down by Uranus, Mars and Mercury Rx. Luckily, February is fully Retrograde-free until Mercury back spins in the sign of Taurus on April 21st. 
The first day of February marks an important observance in the Wheel of the Year:  Imbolc.
As the midway point between Winter Solstice and Spring Equinox, Imbolc is hosted when we've grown tired of shivering in the enormous ominous shadow of Winter. The indoors feel cramped, we're wrapped up like a mummy, constrained in lack of movement for too long and craving a want of freedom. Groundhog's Day was grown from similar cravings to know when Spring is to arrive. 
It's no surprise that LIGHT is symbolic in Imbolc. Like Lunar New Year traditions, where fireworks, lanterns and candles bring illumination, symbols of hope alongside lore of chasing away darkness and demons, with ancestral honor and tokens of good luck for the year to come, Imbolc itself is somewhat about vigilance. 
Honoring fertility in the Earth's preparation for Spring and the birth seasonality of animals during shorter days, Brigid is at the Celtic Imbolc's center. The significance of this time is symbolic regardless of belief, explained in Survival of a Goddess: 
"To fully grasp the significance of Imbolc it is necessary to understand the life-and-death struggle represented by winter in any agrarian society. In a world lit only by fire the snow, cold and ice of this season literally holds you in its grip, only relaxed with the arrival of spring. Although the Equinox does not arrive until later and spring is celebrated with Ostara and Beltane, Imbolc is the harbinger and the indication that better times are coming."
Additionally, the Lunar New Year recently aligned with 1/22's Aquarius New Moon, ringing in 2023's Year of the Water Rabbit. The bunny zodiac is said to allow more emotional but intuitive responsibility, encouraging softness even if alert and quick to respond. In Vietnam, it is considered to be the Year of the Cat instead. 
2/5 Full Moon in Leo 
Speaking of cats, February's duality of Aqua Sun and the Full Moon in Leo conjures confidence. Sparking inner fire, The Lion's Ego-rule is tamed by Aqua's revolutionary wave, creating a Love Light that warms our frigidity as February refreshes our mindsets during a retrograde-free period. With additional magical thinking afoot, brewing an auspicious blend especially sweet for communal healing, this Leo Full Moon is protective, positive and illuminates the Greater Good. It shines on the ways in which we can HELP others and let go of stingy perspectives based in Fear.
This Leo Full Moon ask us:  What can we do to strengthen our resolve to help others and take care of ourselves at the same time? How can we help our communities? How can we have less fluff in our day-to-day duties and get down to the heart of actions that will propel us forward? The combined energies of the many placements bring all these things to mind.
In honor of Leo's bravery for February's Full Moon, we are sharing our audience with @freddiemercuryretrograde to add spiritual reflection on the issues around Defend The Atlanta Forest. Please consider donating to ATLSolidarity.org to aid protestors targeted for "domestic terrorism" in the tragic aftermath of the murder of a climate activist. We are donating 100% of our Concoctionary Etsy and CULLOTES Bandcamp sales to the organization for February as well.
As we originally planned to do ONE Museletter a month, we've found it best to split it into TWO. Be on the lookout for Pisces SZN + the Pisces New Moon report in a separate Substack post. We will be offering a special Valentine's by the birthday babe, Murda Hill, for our February Patreon feature. All proceeds go to support future printing efforts with our 2023 feature publication TBA!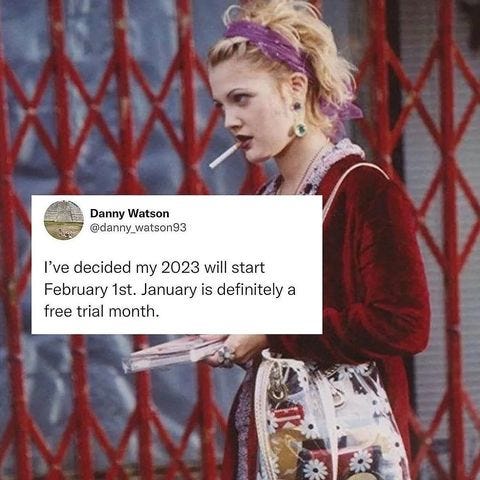 Thanks for reading THE FEMME MOON! Subscribe for free to receive new posts :)